My Wedding Reception Ideas

was conceived by Raymond Miller in 2003 while helping his friends make homemade wine as guest favors for their wedding to be held the following year.

Ray wanted to help couples make their wedding day perfect and memorable by providing only the best wedding decorations, favors, accessories and gifts while at the same time providing a pleasant and rewarding experience for employees who enjoy the same satisfaction of providing a service that really makes a difference.
Award Winning Customer Care
With over 30 years of combined customer service experience, our live customer care staff is dedicated to helping you choose the right products, designs, and colors to match your wedding theme, ensuring your order quality is exceptional and your custom printing or engraving is perfect, guaranteed.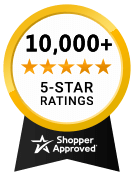 American Owned & Operated
My Wedding Reception Ideas' headquarters and customer service office is located in Willard, Ohio. We have strategic partnerships with 18 manufacturers, suppliers, and printers across the United States and one in Canada, ensuring the best product selection, quality, and delivery times possible.
Order With Confidence
My Wedding Reception Ideas is an accredited member of the Better Business Bureau with an A+ rating since 2007.
Safe, Secure & Private
My Wedding Reception Ideas uses 265-bit SSL (secured socket layer) encryption to protect your personal information. We also use the most sophisticated website security software including Norton Security and Verisign that monitors our website 24/7 to guarantee your personal information is safe.
Competitive Prices Every Day
We keep our prices as low as possible every day so you get the best value no matter when you order. You may find cheaper prices on the web for products similar to or the same as ours but will you get the same personal, one-on-one customer care?

We hire and maintain live, qualified staff to help you before, during and after your ordering process so when you order at My Wedding Reception Ideas, you not only get superior support, you are supporting individuals and families just like you.